set and lighting for Puccini's opera – touring opera production by Compagnia Nuova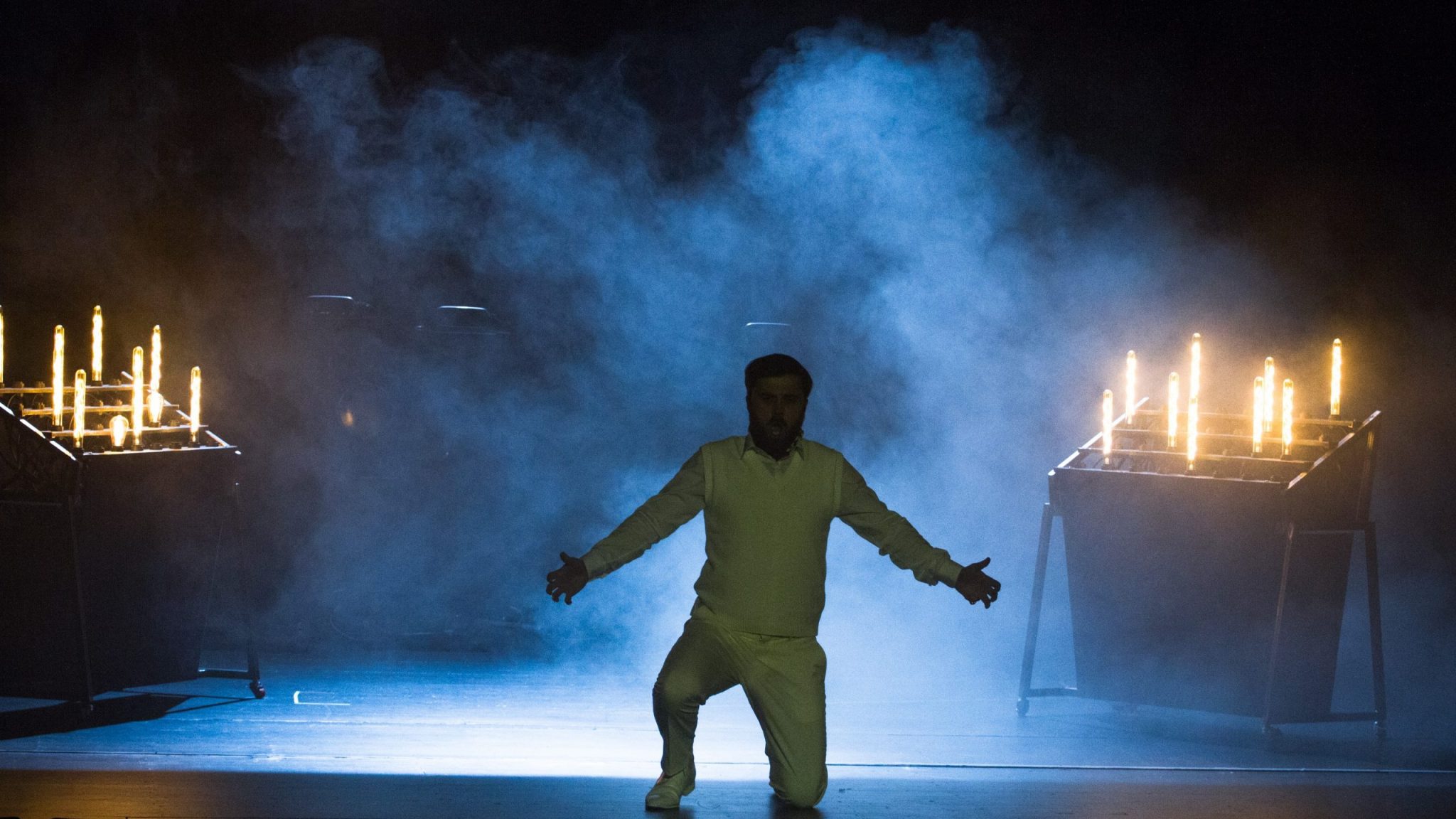 ABOUT
Tosca is a thriller about political persecution, betrayal, torture, murder, greed for power and abuse, and at the same time a story of an undying love that overcomes all opposites. It is set in a society struggling between autocracy and republic, and yet in all its facets seems more topical today than ever before. Who are the true protagonists of this tragedy and what drives them?
The Compagnia Nuova offers a reading of Puccini's famous opera that is faithful to the work but at the same time set in a highly modern, Orwellian world. The focus is on the personal dramas of their characters – in constant struggle with each other and with themselves, between ideals of freedom, love and power. In the meantime, Big Brother is watching …
For this touring opera production by the Berlin Compagnia Nuova, Mien Bogaert developed a set that fits on one EURO pallet. Two candle stands turn into Scarpia's desk, surveillance monitors are made from pallet covers and the pallet itself becomes Cavaradossi's prison.
TEAM
Andrés Juncos, piano
Silvia Aurea De Stefano, stage direction
Mien Bogaert, set and lighting
Benjamien Lycke, video and composition
Moritz Haakh, costumes
CAST
Britta Glaser, Tosca
Michael Ha, Cavaradossi
Julian Arsenault, Scarpia
Israel Martins dos Reis, Angelotti / Spoletta
Jeeyoung Lim, Sagrestano / Sciarrone / Carceriere
PERFORMANCES
October 11, 2021 at Theater Villach (AU)
October 14, 2021 at Das K, Kornwestheim (DE)
February 6, 2022 at Theater Düren (DE)
February 10, 2023 at Hugenottenhalle Neu-Isenburg (DE)
June 5, 2023 at Theater Schweinfurt (DE)
June 7, 2023 at Theater Schweinfurt (DE)
"Packend, beklemmend, verstörend"
"Glasers tragische Arie Vissi d'arte, in der sie über ihr zugrunde gerichtetes Leben nachsinnt, erhielt durch die Positionierung neben einem an Ketten aufgehängten Schweinekopf groteske Züge."
– Main-Post