set and lighting for Verdi's opera – touring opera production by Compagnia Nuova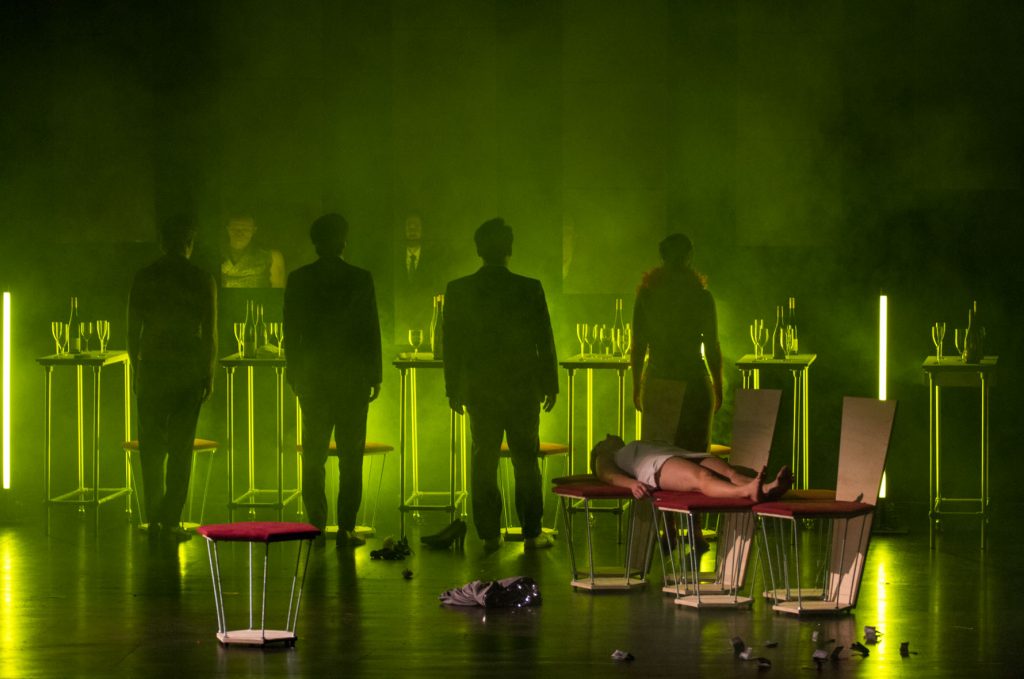 ABOUT
La Traviata is probably one of Giuseppe Verdi's best-known and most frequently performed operas. Between the bourgeoisie and the Parisian demimonde, between love and illness – La Traviata portrays the hunger for life and love of the courtesan Violetta, who suffers from tuberculosis and feels death lurking around the corner.
Accompanied by a virtuoso pianist, five international opera singers bring Verdi's opera to the stage in a simple and moving production. Experience the melodies in their perfect purity and an opera evening of a special format that gets under your skin and resonates in your heart.
For this touring opera production by the Berlin Compagnia Nuova, Mien Bogaert developed a set that fits on one EURO pallet. Seven tables, 12 chairs and hundreds of glasses are used in constantly changing constellations, while golden mirrors, a red theatre curtain and neon lights create a mysterious atmosphere.
TEAM
Andrés Juncos, piano
Silvia Aurea De Stefano, stage direction
Mien Bogaert, set and lighting
CAST
Britta Glaser, Violetta Valéry
Wonjong Lee, Alfredo Germont
Julian Arsenault, Giorgio Germont
Solgerd Isalv, Flora Bervoix
Shokri Francis Raoof, Barone Douphol / Dottore Grenvil
PERFORMANCES
October 28, 2020 at Theater Schweinfurt (DE)
October 29, 2020 at Theater Schweinfurt (DE)
October 30, 2020 at Theater Schweinfurt (DE)
October 31, 2020 at Theater Schweinfurt (DE)
June 24, 2021 at Theater Düren (DE)
October 26, 2021 at Festhalle Landau (DE)
November 6, 2021 at Theater Gütersloh (DE)
December 15, 2021 at Theater Pirmasens (DE)
March 8, 2022 at Stadthalle Remchingen (DE)
May 1, 2023 at Theater Schweinfurt (DE)
May 2, 2023 at Theater Schweinfurt (DE)
May 6, 2023 at Stadeum, Stade (DE)
"Was auch gefällt: Bühnenbild und Licht von Mien Bogaert. Vor allem das Spiel mit Licht und Schatten, dass die Figuren immer wieder neu miteinander in Beziehung setzt, fasziniert. Wer ist im Moment der oder die Stärkere? Wer bestimmt? Das läuft im Hintergrund, wie ein Stummfilm."
– Main-Post